A reading nook, or book nook, is simply a cozy place for kids to read or enjoy books at home.
When I was looking for ideas when my son was a toddler, I turned to Pinterest. The problem I came across was most of the ideas would have required home reconstruction!
There were some beautiful images of book nooks under staircases, in windows sills, and in customized closets.
Beautiful, but not quite the simple (and budget friendly) ideas I was looking for to create a reading nook for toddlers and kids.  
Instead, we created 5 simple reading nook ideas for toddlers and kids that were simple, quick and fun!
A reading or book nook really only needs three essentials:
Lighting
One of the places we created for reading was a bed nook under our son's top bunk bed.
The problem was the lighting under there was just not enough. Our solution- stick on LED lighting. We purchased a set for around $20.00 at Lowe's and it gives enough light for reading.
Another idea would have been a strand of clear or colored rope lights
around the area.  
Lights are fun for reading and create a space where kids enjoy hanging out. 
Seating
It may or may not include an actual chair.
Pillows, blankets and stuffed animals work just as well as a chair.
Inexpensive chairs could be fold out lawn chairs or bean bags. It doesn't really matter as long as it provides a place to prop up with a book. 
If you have young kids and a place in your home where this works… indoor swings would be a hit for reading and relaxing. 
Books
The key ingredient to a reading or book nook is, of course, books!
I'll share our book organization system in a future post, but we have them in three different places in our home. These are the book series for young children that we highly recommend!
Once you have the essentials, below are five simple ideas for a reading nook for toddlers and kids.
We've used them all at various times and they are easily portable so changing them up helps to keep our child's interest in reading and exploring new books.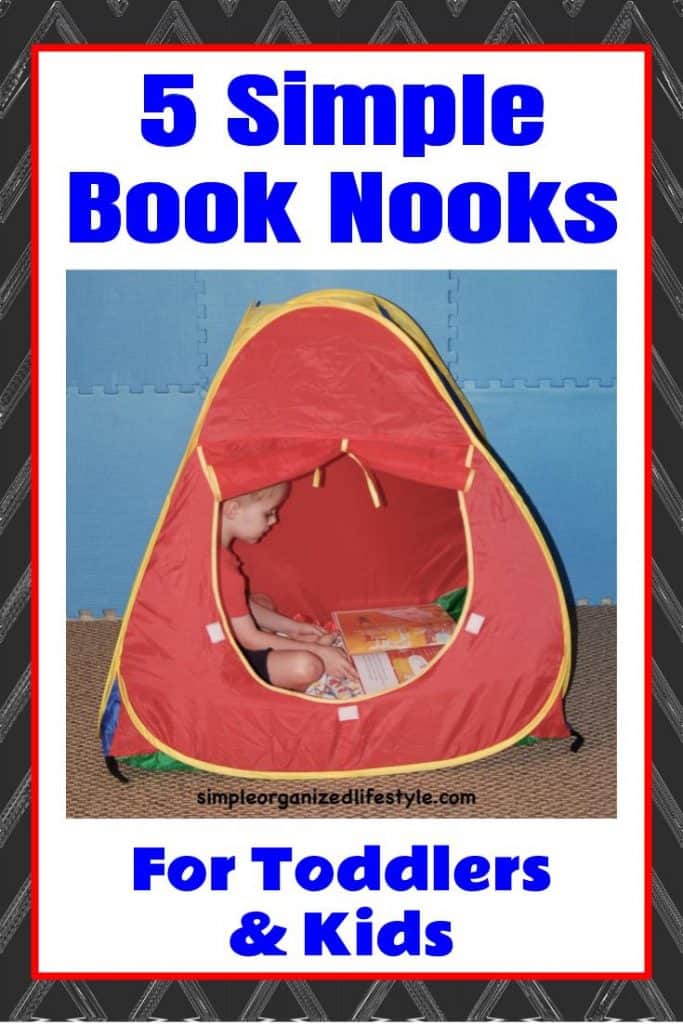 Laundry Basket
Toss a blanket and pillow in a rectangle laundry basket and you have created an easily portable cozy book nook!  
Kids love to get in and out of the basket and it's a fun way to encourage reading.
You could also accomplish the same thing with a sturdy box or any other kind of basket. 
2. Play Tent or Fort
A pop-up tent makes a great book nook!
This can also be created with some sheets or blankets propped up like a fort.
These tents are less than $20 and provide a place to read as well as for hours of creative play. 
3. Bean Bag Chair or Pillows
Kids love to sink into a bean bag chair or oversized pillows. If you don't have the space for a bean bag chair, a pile of pillows would work too. 
These create a cozy place to read anywhere in your home. 
4. Bed Nook
Our son's bed is a junior loft bed that we ordered from Amazon
.  He loves climbing the ladder for the top bunk and the bottom section has made a fantastic bed nook for reading.  
We attached a strip of LED lights for additional lighting as mentioned earlier, added a sleeping bag, some stuffed animals, and books in storage tubs.  
The bed would also be ideal for putting up curtains like a fort and we'll probably do that when he gets a little older so the space will change over time.  
Right now, this makes a perfect cozy reading nook. You most likely have areas of your home that could be used temporarily in a different way. Even a blanket under the dining room table could provide a makeshift book nook!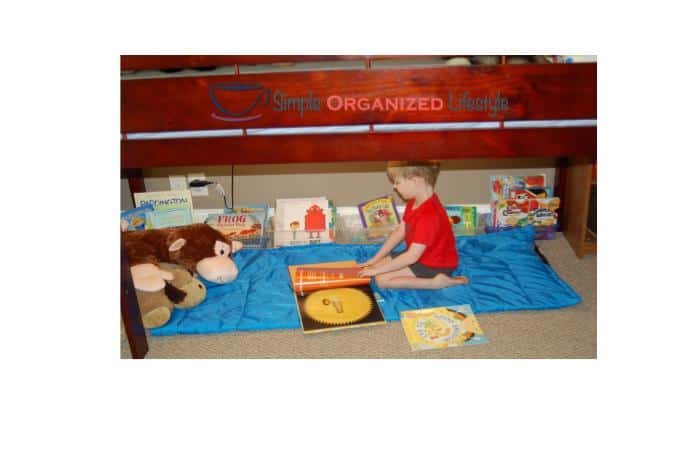 5. Camping or lawn chairs
Kids' camping or lawn chairs are not expensive and you can easily bring them indoors to create a place for your little one to "camp out with a good book!"   
If you search for classroom reading stations on Pinterest, you could easily find inspiration for ideas that would work at home too. 
A special thanks to our bookworm and bookdog 🙂 for their assistance with this post! 
The main goal for a book nook at home is just to encourage reading and relaxing. It is a great way to help kids view reading as a fun leisure activity and less of a chore. 
What other ideas do you have for a simple reading or book nook for kids and toddlers?  I'd love to hear what others have used!